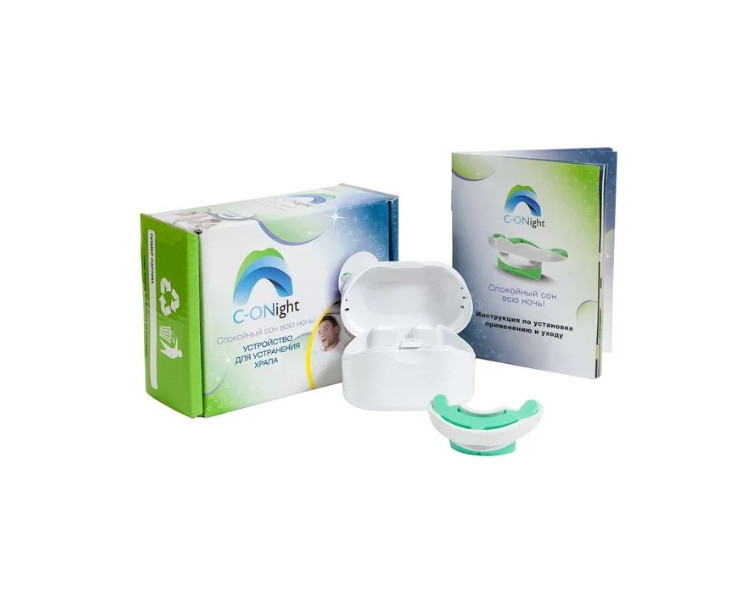 
Snoring protector Sonait "C-ONight"
Innovative mouth protection against snoring. This device completely repeats all the anatomical properties of the bite, which makes it an ideal tool in the fight against snoring. Each kit has detailed instructions.


Snoring and obstructive sleep apnea occur during sleep when your airways are narrowed or blocked. Sonait gently holds your jaw so that the air duct is open during sleep.

Sonait clinical study.
From 2019 November to 2020 March. The study included 64 patients (17 women and 47 men) aged 35 to 60 years.
All patients underwent a snoring index measurement (heart and lung examination using a PolyWatch Pro spiral apparatus).
After enrollment in the study, the patient was given a Sonait snoring relief device and re-measured after 7 days.
Result:
The data obtained showed a significant reduction in the snoring index in 49 patients (more than 90%), suggesting that Sonait should be used as a means of reducing snoring in patients with mild to moderate apnea.
We recommend that you read the official conclusion of this study in more detail.

Peculiarities. Contraindications. Preparation.
Recommended for snoring, mild to moderate sleep apnea
Reduces snoring in 80% of cases - clinically proven.
The mouth guard adapts individually to the shape of your bite.
Possibility to model the shape of the mouth guard up to 5 times.
Prevention of heart attack and stroke.

Sonait features:
The Sonait device gently pushes the lower jaw forward against snoring and increases airflow in the upper respiratory tract. This helps to eliminate or significantly reduce snoring as well as ensures a deep restful sleep. As a result of the oral protection, the airways remain open all night and the airflow flows freely into the lungs.
Recommended for use with the following symptoms:
Snoring
Mild to moderate apnea
As a temporary replacement for the CPAP device for travel, business trips, leisure, etc.
Bruxism
For people with the lower jaw physiologically slightly repelled.
Mouth protection eliminates snoring while lying down or sitting.

Contraindications:
Portable removable prosthesis
Epilepsy
There are less than 7 teeth in the upper jaw

Possible side effects:
Temporary jaw pain (disappears within 5-7 days after use)
Increased salivation may initially occur.
Prepare Sonait dental protection - it is enough to heat the dental protection in hot water for 5 minutes:
Take 2 containers of water, one with hot water, the other with cold.
Put the mouthpiece in the hot water container and hold for 5 minutes.
After the time has elapsed, remove the mouth guard and lower it into the cold water for a second to avoid burns during application, but it is important not to expose it to cold water to prevent it from solidifying.
Then, looking in the mirror, place the device in your mouth and grit your teeth. Allow the mouth guard to set slightly.
If something goes wrong or the device adjusts uncomfortably, you can repeat the simulation procedure and soak the mouthpiece in hot water again. The mouth guard will return to its original position.

Important! Adaptation:
Do not go to bed with dental protection immediately after preparation, we recommend lying down with it for about 20 minutes, thus allowing the jaw joint to get used to and psychologically adjust to dental protection. Mouth protection eliminates snoring while lying down or sitting.
Shelf life:
For 3 years, we recommend changing the mouth guard 1-2 times a year.
Care and cleaning:
It is recommended to keep it in the container provided with the mouth guard and to clean it with regular toothpaste or denture cleaning tablets.
2 other products in the same category: